February 8th, 2014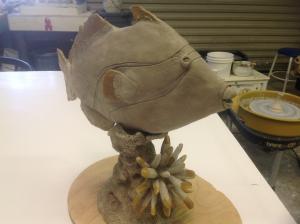 I have decided to have a WIP(work in progress) blog. I will be sharing the progress of some of my work. This Humuhumunukunukuapua'a will be my first. The clay I used is ceramic arctic white with armature. Now in the drying stage ( nice and slow) NO cracks please. the wax on the tips, is to protect the clay and slow down the drying process on the elements that could dry too fast. I will be posting my photo inspiration for this little fish. The Hawaiian State Fish, they are a bright dash of color in an otherwise monochromatic world.
September 11th, 2013
You must check out this film.
"Diviner than the dolphin is nothing yet created, for indeed they were aforetime men and lived in cities along with mortals, but by the devising of Dionysus they exchanged the land for the sea and put on the form of fishes."~ Oppian, Greek Writer, 200 B.C.

NA NAI'A Legend of The Dolphins tells a tale of legendary proportions, portraying the strange, spectacular destiny of these powerful and emotionally involving characters; a tale rich in beauty, courage, humor, mystery, and messages to humanity.
JONATHON KAY
Director


November 13th, 2011
Remember if you order any of my art there will be no FAA watermark on the final product. I do sign all my artwork, so the Zetti will be there. I try to keep it very subtle. If you use my artwork for inspiration (because I know you can) please let me know and give me the courtesy of a link or mention me. All my work is copy written. Asking permission to use my artwork is easy, just e-mail me.